U.S.-Spanish Relations in the 21st Century
Author: Troy Rutter | Image: Troy Rutter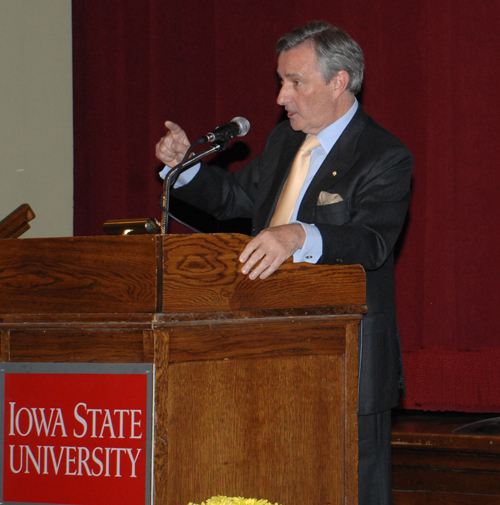 Strengthening American diplomatic relations with long-time European allies was a priority of the Obama presidency. The ambassador of one of those close allies – Jorge Dezcallar, ambassador of Spain to the United States – presented the eighth annual Manatt-Phelps Lecture in Political Science on Oct. 26, 2009. His lecture, "U.S.-Spanish Relations in the 21st Century," was presented in the Memorial Union Great Hall.
His Excellency Jorge Dezcallar de Mazarrendo
Former Ambassador of Spain to the United States
A member of the diplomatic corps since 1971, His Excellency Jorge Dezcallar served as Ambassador of Spain to the United States from 2008-2012.
He previously served as general-secretary of the International Strategy Council of Repsol (2006-08), ambassador to the Holy See and the Sovereign and Military Order of Malta (2004-06), director of the Superior Center of Defense Information and later the National Center of Intelligence (2001-04), as well as Spain's ambassador to Morocco (1997-2001).
He additionally served in various posts in the Ministry of Foreign Affairs, including Special Mission Ambassador for Foreign Policy and Common Security (1996-97), General Director of Political Affairs (1993-96), General Director of Foreign Policy for Africa and the Middle East (1985-93), and Deputy General Director of North Africa and the Near and Middle East (1983-85).
Born in Palma de Majorca, Dezcallar is a law graduate with a degree in international studies from the Diplomatic School in Spain.